Go Retro with the Clic !!
Made of 26% plastic from a renewable resource,
this sleek classic pen has polished nickel-plated trim and is refillable.
A classic BIC® slim profile retractable
Polished nickel plated trim
Mechanism: Plunger-Action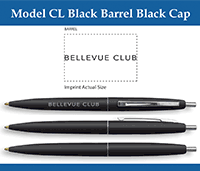 Product Size: 5 9/16" x 1/2"
Imprint Area: Barrel: 1 1/2" x 1"
Imprint Colour:1 color barrel imprint included in price
2 color imprint $0.13 per pen
3 color imprint $0.26 per pen
Stock Imprint Colors:
Show/Hide
White, Black, Red, Yellow, Orange, Pink, Navy, Reflex Blue, Process Blue, Purple,
Burgundy, Maroon, Green, Teal, Forest Green, Brown, Charcoal, Cream.
Point Style/Ink Color
Fine Ink Colors: Blue Pen Ink, Black Pen Ink
Medium Ink Colors: Blue Pen Ink, Red Pen Ink, Black Pen Ink